The Trickster: Seven Mortal Sins
A downloadable game for Windows, macOS, and Linux
[Made by five middle school students]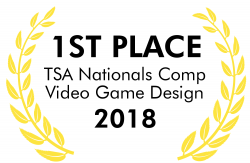 We like to go into the forest,

even though it scares us and we don't know what is there.

WE WON THE NATIONAL TECHNOLOGY STUDENT ASSOCIATION COMPETITION. FIRST PLACE IN THE NATION! WE CANNOT THANK EVERYONE WHO SUPPORTED US ENOUGH ~ EVERYONE WHO WORKED ON THIS PROJECT AND SUPPORTED IT IS AMAZING AND HEROES!